Ba Vi National Park is always a great place for people who want to escape from the crowded city center also ideal for a picnic on weekend. Get closer to nature and the diversity of ecosystems. Visitors can join trekking, cycling in the national park to explore historical sites
The highlight of Ba Vi national park day trip
Cactus garden where more than 1,200 cactus species
Visit the ruin of the French colonists – Hiking to the top of the mountain to get the best view
Visit Uncle Ho's temple and Bao Thien tower
1. How to get to Ba Vi national park from Hanoi
This is one of the perfect destinations near Hanoi for a visit in a short time. Visitors can go by motorbike, bus, private car or tour.
If traveling by motorbike, there are two different routes you can choose from:
From Hanoi old quarter, follow Tran Duy Hung street, Hanoi (near Big C Thang Long), Thang Long avenue to Hoa Lac overpass, go straight to Viet Nam National Village for Ethnic Culture and Tourism, follow the directions to Yen Bai commune.
Starting from Cau Giay district, you follow Nhon direction to Highway 32 to the intersection of Son Tay bus station, turn left to the junction of 105 hospitals. Then go straight to Tan Linh intersection, turn left for more than 3km will arrive.
Don't forget to ask locals if you are unsure about the road.
If you go by bus, you can choose one of the two bus routes:
• Bus 214 comes from Yen Nghia – Xuan Khanh bus station
• Bus 71 or 74 from My Dinh – Xuan Khanh bus station.
At the end of the bus stop in Xuan Khanh, 5km from Ba Vi, then you should take a motorbike or taxi to continue moving.
By private car from Hanoi to Bavi or tours
This is expensive, but it is really comfortable, and you can have your own space (no need to worry about getting crammed on a bus). Furthermore, a private car will definitely be better for you if you go with a large group.
1.1. Ba Vi national park entrance fee and opening hours
Ticket price: VND 60.000vnd/ person
Tickets to the Cactus Garden: 20,000 VND / person
Parking fee: 3.000 VND for scooter
Opening hours: 6: 00 a.m to 7: 00 p.m; every day
1.2. Ba Vi national park map

Ba Vi national park map 
The national park is located about 15 km from Son Tay city, and 50 km from Hanoi city center, combined with two districts from Hoa Binh province (Luong Son and Ky Son district) cover 10,814.6 ha.
This is has become a famous place for eco-tourism with beautiful scenery and cool weather.
Especially when viewed from afar, we have admired the picturesque scenery of 3 mountains: Vua (1,296 m), Tan Vien (1,226 m), and Ngoc Hoa (1,120 m)
In the middle of the mountain, many waterfalls are pouring down, forming attractive tourist destinations such as Khoang Xanh, King Pond, Thac Nga, Suoi Ngoc …, all attracting many visitors.
Covering nearly 11,000 hectares, Ba Vi National Park is considered the lung of Hanoi. Attractions include the mysterious abandoned old church covered with moss and the cactus greenhouse.
Like Da Lat, Sa Pa or Tam Dao, the French built many resort villas in Ba Vi. The only difference is that they have been destroyed over time, leaving few traces behind. The colonel's residence is one of the few remaining French constructions in Ba Vi that remains quite intact.
2. The best time to travel to Ba Vi national park.
With a relatively mild climate, the temperature in the year does not differ much, so you can go to Ba Vi any season of the year.
However, the weather from April to October is cool and quiet, and fresh air is the best time to create favorable conditions for organizing sightseeing trips and picnics.
In addition, from mid-November to early December, you can come here to enjoy the beauty of wild sunflowers start blooming, conquering the top of a mountain, or just hiking around.

A beautiful road for hiking
 3. Ba Vi national park accommodation
Because it is pretty close to Hanoi, many young people often go to Ba Vi National Park during the day, hang out sightseeing, and back home. However, a lot of family in the city center still wants to stay overnight and relax on the weekend before coming back to the city center. Here is some advice for you.
3.1. Homestay, Hotel, Resort
Tourism services here are growing. Typically, there are 4-star standard resorts or homestays were built with unique styles for tourists to stay in Ba Vi for two days or longer.
Melia Bavi Mountain Retreat
Standard: 5 star
Price: from 150$-500$/Night
Address: Cote 600m Ba Vi National Park Ba – Hà Nội
Contact: 024 3200 9999
Standard: 4 star
Price: from 70 $-85$/Night
Address: Tan Linh- Ba Vi- Hanoi
Standard: Homestay- homestead with unique styles
Price: from 15 $- 35$/Night
Address: Thong Nghe-Van Hoa- Ba Vi- Hanoi
Standard: Homestay with unique styles
Price: from 12 $- 30$/Night
Address: Ba Trai- Ba Vi- Hanoi
3.2. For camping
Ba Vi National Park has many places to camp with large groups. Here are the areas that allow camping for you to choose.
Campsites in Ba Vi National Park:
Pine forest in Ba Vi Resort: With the sloping land and relatively quiet, you will easily find a spacious place to camp between the pine trees that grow close together. You can camp at any location in the area and no charges. You are not allowed to fire a bonfire in this position, opposite the pine forest, which is on the side of Xa Huong restaurant.
Private pine forest in Cactus garden area:
Not as beautiful as the pine forest in Ba Vi Resort, but you can camp overnight, get bonfires, camping cost is 20.000 VND/ person, there is a service for Rent a tent and set a campfire.
Located at the beginning of Ba Vi national park will have a turn to the lake. Ho Tien Sa tourist area also rents tents, tarpaulins, and campfire services.
Around the Old French Church:
Around the house, thanks to the vacant grounds, you can camp here, but you can only camp during the day and not stay overnight.
4. Things to do and what to see in Ba Vi national park
4.1. Hiking at Ba Vi national park
This away the most exciting activity in here, tourists will immerse themselves in nature, and you will feel like entering a completely different world with fresh air, cool and incredibly very quiet for hiking.
Going along a trail from the entrance gate, we will enter the soaring Pine forest; this is a fascinating place to take pictures and set up camping tents.

 The beautiful road for hiking
4.2. Cactus garden
It's far from the main gate, about 1km. This place is known as the cactus kingdom, with about 1200 varieties from all over the place. This is the cactus garden is recognized as the largest in Southeast Asia until now. Cactus is grown in gorgeous and unique greenhouses.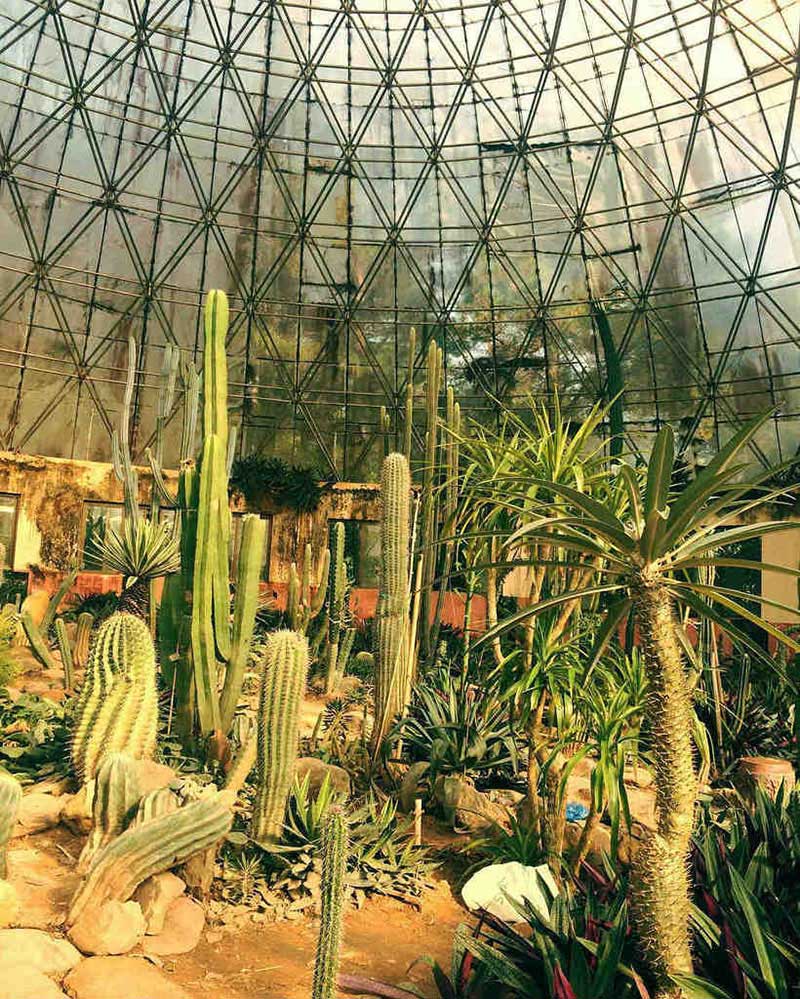 Cactus garden
4.3. French ruins (Old French church)
French-built this project with a bold Western beauty at about 800m (above sea level). Therefore, this stop will bring you lots of exciting things.
This place also attracts a lot of youth people to take photos or selfies because of the mysterious and miraculous background.
4.4. Ho Chi Minh Temple
Built on the highest mountain of Ba Vi, to visit Uncle Ho temple, visitors will have to go a long way and climb up to 1320 steps. Therefore, the journey to explore here requires good health and a strong spirit to explore more places.

Uncle Ho temple
4.5. Bao Thien Tower 
It's was built near Ho Chi Minh temple on the Peak of King Mountain and completed in 2010 on the occasion of the 1000th anniversary of Thang Long – Hanoi. The tower consists of 13 floors, 26.9 meters high, on top of large bronze berries.

Bao Thien tower
4.6. Thuong Temple
It's located on the top of Ba Vi Mountain at an altitude of 1227m, also known as the Palace of the Shrine, is a place of worship of Emperor Tan Vien Son. This place all visitors want to conquer to get the best view from the top of the mountain.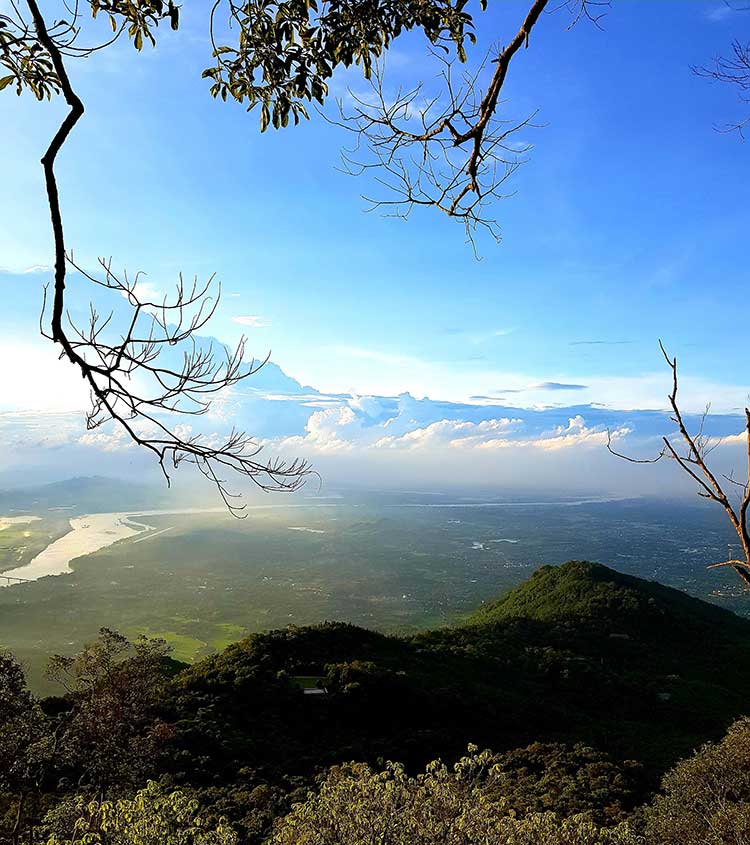 Conquer the top of the mountain
4.7. Ngoc Hoa cave
This cave is located at the bottom of a rocky cliff right below the mountain. Due to the impact of nature, the landscape here is gorgeous. In particular, the large platforms line up neatly to form a cave used as a place to worship Princess Ngoc Hoa.
5. Ba Vi Cuisine
5.1. Ba Vi hill chicken
There are many farms raising hill chicken, with the quality of aromatic meat and delicious. Chicken hill is processing into many dishes such as chicken frequency, boiled chicken, roasted chicken with chili, etc.
5.2. Forest pork
You can enjoy the specialties of wild boar at Ba Vi restaurants, with many different processing methods such as grilled five-spice, stir-fried, re-vinegar, bamboo shoots, etc.
5.3. Dairy products
The vast Ba Vi plateau is one of the largest dairy farms in the country. The products are processed as diverse as fresh milk, yogurt, cheese, caramel, etc.
5.4. Baby beef & calves
A specialty accompanying the Ba Vi brand is clean cow and calf farms that have created pure ingredients to create a nutritious and delicious calf dish. The ingredients are simple but with ingenuity created a great dish. Young calves can make lots of delicious dishes like re-calves or stir-fries with pretty simple ingredients. You can't refuse the invitation of this mountainous specialty.
5.5. Fish on Da River
Fish is one of the famous specialties of Ba Vi, especially the lentils, barbs, and fried fish, etc. to catch this fish is very difficult because these fish are firm and live in the deepest reaches of the river areas. The fish caught are usually from a few kg to even oats, firm meat, delicious, once enjoying this type of specialty will make you unforgettable. Besides that, visitors also can have the chance to try a lot of fresh vegetables, tasty and strange to eat like Tam Bop vegetables, stir-fried Chin vegetables with garlic or soup, banana flower soup, etc.
6. Ba Vi national park day trip – Itinerary suggestion
Ba Vi National Park is always a perfect place for people to escape from the crowded city center and ideal for a picnic, especially on weekends.
08:00 – 08:30: Our car will pick you up at the hotel from Hanoi old quarter and transfers about 60km to explore the most famous things in Ba Vi national park.
Arrive at the national park, take a rest and visit the Cactus garden where more than 1,200 cactus species are planted and preserved here. Continued visit to Pine forest where you could trek to the Ngoc Hoa cave which was shaped naturally and magically by the fault of the geology.
Then we will visit the ruin of French colonists like ancient church, French summer camps, French Military zone. Especially, located at Point 600m is the historical battle of Ba Vi Regiment on Dec 31, 1951, that successfully broke off the Da river defense line of the French, leading to the victory of the Hoa Binh campaign in 1952. You would also have a chance to walk through the jungle and visit the old green cypress trees as well as the stunning flora and fauna surrounding.
Have lunch at the local restaurant and enjoy specialties from the mountainous area of Ba Vi national park.
After lunch, you climb up to mountain of about 300m and visit Thuong Temple – the temple worshiping Saint Tan Vien. Then, continue to visit Mau temple on the top of the mountain and enjoy the stunning view.
Continues visit Uncle Ho's temple – built in the 1970s, Bao Thien tower, go further you can climb to Vong Canh peak,
Come back to the car and return hotel, goodbye and see you again.
Call us on (+84) 936 859 189 – WhatsApp, Line, Viber, Zalo are available, to book your vehicle, letting us know the date, time and destination. Hanoi Journey Car Rental offers quality service at reasonable prices, providing efficient, punctual customized transport solutions every day of the year and at any time of the day.